The beauty of nature is abundant, ranging from stunning landscapes and majestic waterfalls to lush forests, incredible mountains, and wonderful beaches.
However, one of the most fascinating and naturally occurring phenomena that leave us in awe are the remarkable and unusual rock formations foundaound the world. These formations, transformed by thousands of years of weathering and erosion, come in various shapes and sizes, from giant mushroom shapes to elephant shapes or even cone-shaped ones. Each one more intriguing than the other.
Take a moment to appreciate these incredible rock formations with their varying shapes, compositions, and sizes from around the world!
1. Unusual rock formation in the desert of Arizona, United States
Credit: David Swindler
2. The Al Naslaa rock formation, located south of Tayma oasis, Saudi Arabia
Credit: zazahardyinsaudi
This spectacular rock measures about 6 m high and 9 m wide, and is neatly split down the middle into two parts, such that it appears as if it was performed with the precision of a laser beam. Each part of the rock is balanced on small pedestals, and there are numerous petroglyphs present of the south-east face of the rock.
3. The Mushroom rock (also called Pedestal rock) in Tamanrasset, Saharian desert, Algeria
Credit: @tourism_algeria
Another perspective of the rock showing both pedestals
This massive rock owes its particular shape to the action of wind erosion and weathering, and the different rate at which these occur at the top and bottom of the rock.
4. The Pinnacles at Gunung Mulu National Park in Sarawak, Borneo island
Credit: Manuel Beers / Flickr
The Gunung Mulu National Park consists of a number of impressive geological formations of caves and pinnacles. There are three mountains within the park: Mount Mulu standing at 2,376 m high (7,795 ft), Mount Api at 1,750 m (5,740 ft), and Mount Benarat at 1,858 m (6,096 ft). These limestone pinnacles are locatedaong the jungle on the slopes of the upper part of Mount Api. Their unique, razor-like, sharp forms extend to a height of about 50 m from the ground.
5. The Balanced Rock in the Garden Of The Gods in Colorado Springs, Colorado, United States
Credit: John Hoffman's Photography
This phenomenal red sandstone rock is said to be about 290-million-year-old, rising 35 ft from its pedestal base and weighing about 700-ton. Some concrete was pouredaound its base to prevent tourists from cutting out a chunk to take away, but apart from that, there is nothing much to protect the rock from erosion. Although the rock surrounding Balanced Rock eroded, the massive rock itself did not, and it is believed it won't be falling, rolling, or crashing anywhere, anytime soon. Unless perhaps in the event of a major earthquake.
6. The 'Hedgehog' rock formation at Tassili n'Ajjer National Park in Algeria
Tassili n'Ajjer is a national park in the Sahara desert and classified as a UNESCO World Heritage Site. Situated on a vast plateau, it consists of geological formations of rock forests, composed of eroded sandstone, which somehow is evocative of a lunar landscape. There are about 300 natural rock arches formed, along with deep gorges and permanent water pools.
7. The "Pointing rock" in Little Finland, Clark County, Nevada, United States
Credit: Tomas Hoste Photography
Little Finland is a scenic red rock area, known for its red rock scenery and unusual rock formations, which are composed of red Aztec Sandstone, fossil sand dunes.
8. Mushroom rock formation in the Mushroom Rock State Park, Kansas, United States
Credit: Franklin B Thompson (kansasℯxplorer)
Mushroom Rock State Park is famous for its mushroom rock formations, which are the remains of beach sands and sediments of the Cretaceous Period, about 144 to 66 million years ago. Among the several rock formations, there are two mushrooms and a giant shoe rock, and the largest rock measures 27 feet in length.
9. The Árbol de Piedra Rock Tree in the Eduardo Avaroa Andean Fauna National Reserve of Sur Lípez Province, Bolivia
This isolated rock formation, known as the "Stone Tree", protrudes out of the altiplano sand dunes and is shaped like a stunted tree of about 7 m in height. Its specific shape, especially the thin stem, is the result of strong winds carrying sand and eroding the soft sandstone.
10. The Chicken and Mushroom Rock Formation, White Desert Protected Area (Sahara el Beyda) in Egypt
Credit: Education Images/Universal Images Group (via Getty Images)
11. The El Tormo Alto rock formation in Ciudad Encantada, Cuenca Province, Castilla-La Mancha, Spain
Credit: Classic Image / Alamy Stock Photo
The rock formations are mainly composed of dolomite and limestone during the Cretaceous period, about 90 million years ago. They have obtained their distinct shape due to erosive forces like weathering and the waters of the nearby Júcar River.
12. Mushroom rock formation in Goblin Valley State Park, Utah, United States
Credit: Whit Richardson (gettyimages)
The Goblin Valley State Park features thousands of hoodoos which are locally referred to as 'goblins'. These goblins are mushroom-shaped rock pinnacles, and are rather small, but some of them can be several meters high. Their striking shape is due to the top layer of rock being erosion-resistant, while the softer sandstone in the bottom layer is more prone to weathering.
13. The Crowley Lake Stone columns on the shores of Crowley Lake, California, United States
These fascinating columns are shaped as helical columns and stand up to 20 feet tall, connected by high arches. Their shape is from the result of the reservoir's pounding waves carving out the softer material at the base of the cliffs. More specifically, it was determined by researchers that the columns were formed by the action of cold water percolating down into — and steam rising up out of — hot volcanic ash ejected by a cataclysmic eruption 760,000 years ago.
14. The Toadstools, Utah, United States
Credit: Cecil P_ Whitt
15. The "Table Leg Rock" formation, near Dalian, China
16. The Big Balanced Rock on the Big Loop trail, Chiricahua National Monument, Arizona, United States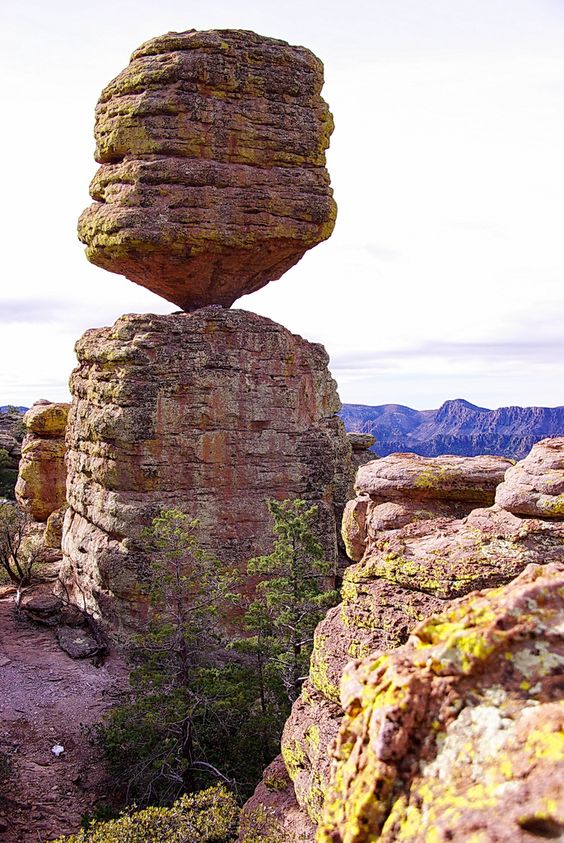 Credit: Al_HikesAZ / Flickr
This enormous balanced rock is about 25 feet tall, 22 feet in diameter and weighs 1,000 tons.
17. Wahweap Hoodoos, Grand Staircase-Escalante National Monument near Big Water, Utah, United States
Credit: James Marvin Phelps / Flickr
White hoodoos are definitely not a usual sight in Utah, since the red rock wonders are more common. These hoodoos are white as they are composed of Entrada Sandstone and are about 160 million years old. They are located not far from The Toadstools, in Grand Staircase-Escalante National Monument.
18. Mushroom rock in Falsuri, Department of Potosi, Bolivia
This spectacular rock formation, located in the so-called Valley of the Rocks, is about 10 meters high, and the massive sphere on top rest upon a base, which acts as its support. The truly unique and rare shape of this rock, which resembles hands holding a globe, has even been likened to the biggest World Cup.
19. The Mushrooms, in Grand Staircase-Escalante National Monument, Utah, United States
Credit: James Marvin Phelps / Flickr
20. Lacy sandstone formations in Navajo sandstone, located in Edmaier's Secret area, Vermilion Cliffs National Monument, Utah, United States
Credit: Stan Wagon
21. Tall, cone-shaped rock formations known as "Fairy chimneys" in Cappadocia, Turkey
These "Fairy chimneys" came into existence as a result of a geologic process that began millions of years ago, when volcanic eruptions spurted ash that eventually hardened into tuff, a porous rock which was covered by a layer of basalt. As millennia passed, the softer tuff went through erosion, turning to tall pillars that stand as high as 130 feet. As the harder basalt erodes at a slower rate, a protective, mushroom-shaped cap formed over each one.
22. The Stone Mushrooms near Beli Plast village in Bulgaria
Credit: Mincho Minchev/gettyimages
These mushroom rocks are formations from volcanic activity about 20 million years ago, when the site was an ocean floor. As the landscape transformed over millennia and the rocks got exposed to the atmosphere, they gradually got shaped into these unusual forms from erosion and weathering actions.
23. Mushroom rock formation in Abu Rakah and Al Ula desert regions of Saudi Arabia
24. The Pinnacles, Crater Lake National Park, Oregon, USA
Credit: combinatorial / Flickr
These hollow 'pinnacles' were formed as a result of hot volcanic steam bubbling up through a thick layer of ash. The ash became solidified by the heat and as it got washed away, the pillars remained.
25. The Hopewell Rocks, also known as the Flowerpots Rocks in New Brunswick, Canada
Credit: grownuptravels
These rocks, located in the Hopewell Rocks Ocean Tidal Exploration Site, stand at 40–70 feet high and are the result of tidal erosion. As the Bay of Fundy is subject to extreme tidal range, the base of the rock formations is flooded twice a day.
26. Mushroom-shaped balancing rock, desert, Wadi Rum, Jordan
Credit: Norbert Probst/gettyimages
Wadi Rum, known as the Valley of the Moon, is a valley incise into the granite and sandstone rocks, and is the biggest wadi in Jordan.
27. Rock formation in the desert of Arizona, United States
Credit: David Swindler / Flickr
28. Naturally-formed rocks in Yehliu Geopark, Wanli in New Taipei, Taiwan
There are about 180 of these strange-looking rocks, called hoodoo stones, in the Yehliu Geopark, each at different stages of erosion. The most popular rock formation is known as the "Queen's Head", which is an 4,000-year-old rock that got its name from its similarity to the shape of England's Queen Elizabeth. Other rock formations are recognized by their unusual names like "Sea Candles", "The Beehive", "The Ginger Rocks" and "Fairy Shoe".
29. The Tent Rocks in the Kasha-Katuwe Tent Rocks National Monument, southwest of Santa Fe, New Mexico
Credit: Jim Nix
These fascinating rock formations are the result of layers of volcanic rock and ash deposited by pyroclastic flow from eruptions that occurred 6 to 7 million years ago, within the volcanic field of the Jemez Mountains. A lot of the tent rocks have a distinctive conical shape and are composed of soft pumice and tuff, and range from a few feet to 90 feet (27 m) in height.
30. Sandstone Hoodoos formation at South Coyote Butte, Paria Canyon Vermilion Cliffs Wilderness, United States
Credit: Bobbushphoto/gettyimages
31. Elephant Rock, also known as Jebel Al-Fil, in Al Ula, Medina region, Saudi Arabia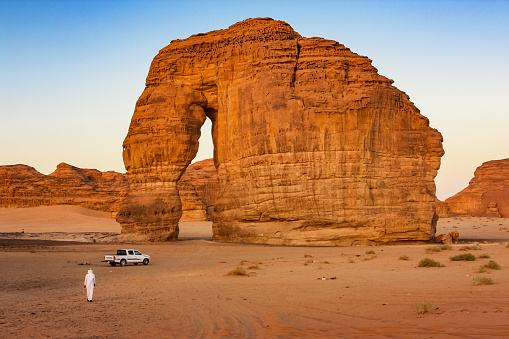 Credit: benedek / iStock
Credit via Zamzam.com
This spectacular formation of about 52 meters high resembles an elephant with its trunk touching the ground. It is one of Al Ula's geological marvel that became an iconic landmark and a wonder to see in the daylight or at nighttime.
32. The 'Alien Throne' in the Valley of Dreams, Navajo Nation land in the northwestern New Mexico badlands
Credit: danielbenjaminphoto
The 'Alien Throne' is found just outside the Ah-Shi-Sle-Pah Wildnerness Study Area, which is home to multicolored badlands, sandstone hoodoos, petrified wood and dinosaur bones. The structure is a hoodoo, which is a towering, thin spire of rock that sticks out from the bottom of a badland. Minerals deposited within different rock types cause hoodoos to have different colors throughout their height. Hoodoos have different color variations throughout their height due to the minerals deposited within different rock types.
33. The Monster's Fin, Lake Baikal in Russia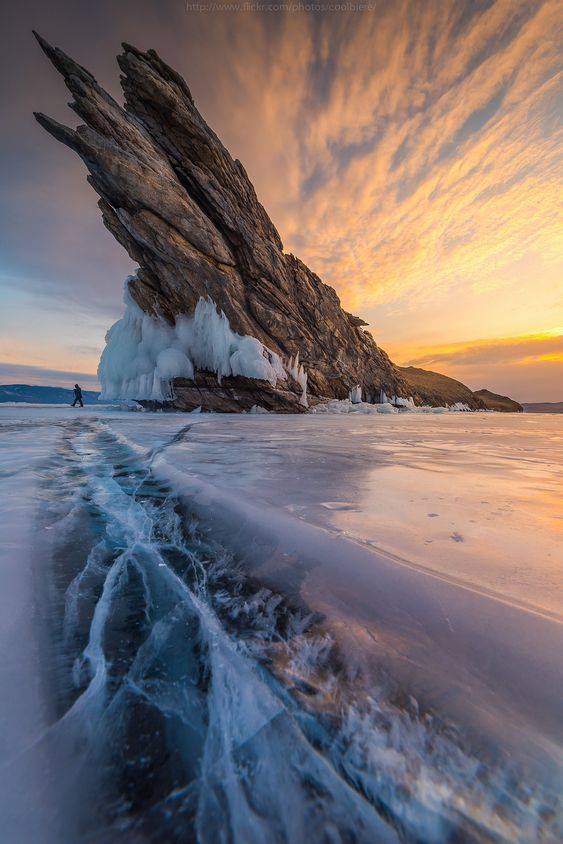 Credit: CoolBieRe
Considered the deepest lake in the world, Lake Baikal is an ancient, massive lake in the mountainous Russian region of Siberia, north of the Mongolian border.
34. Mushroom Rock formation (Earth Pillars) in Pha Taem National Park, Thailand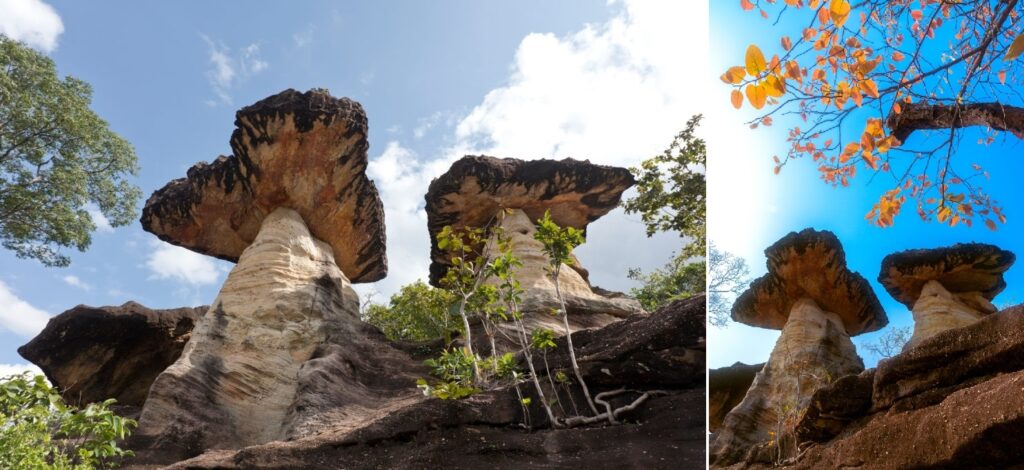 Credit: Westend61 (left), Siripong Kaewla-iad (right) – Getty images
35. Spherical natural sandstone rock formation in the Bisti/De-Na-Zin Wilderness Area, northwestern New Mexico
36. The Balancing Idol Rock of Brimham Moor North Yorkshire, England
The Idol rock, estimated to weigh around 200 tons and with a height of 4.5 m, seems to be teetering on top of a small pyramid-shaped base, but it is in fact stable. The almost unbelievable sight, seemingly defying the laws of physics, surely leaves a lot of visitors perplexed.
37. The large Balancing rock, known as Kummakivi, in Ruokolahti, Finland
Kummakivi, which stands for 'strange stone', is a 7 m long boulder that balances on top of a rounded bedrock surface with a very small footprint. Despite the precarious appearance, the massive rock lies firmly on the small one, and it is impossible to be rocked with human force. The boulder has been protected since 1962 and a pine tree originating from the 1980s grows on top of it.